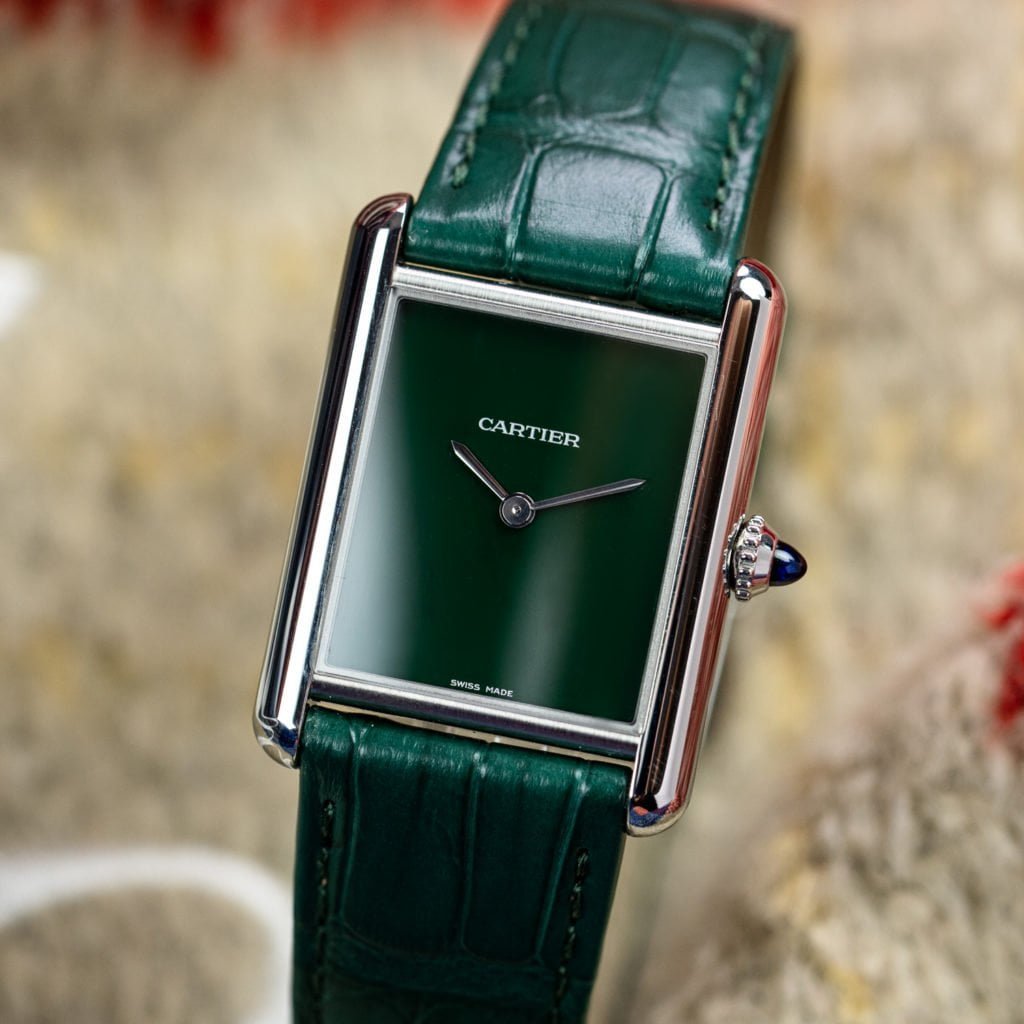 Cartier's trio of affordable stainless steel Tanks with colourful dials and straps was one of the most exciting releases of the past year. Demand for these watches has been so high that it's nearly impossible to get your hands on one. Well, we've acquired not one, not two, but all three and we're offering them as a complete set!
At the end of the 1970s, at the height of the Quartz Crisis that decimated the watch industry, Cartier introduced a pioneering line of 'must-have' watches: the Must de Cartier Collection. These Tanks featured a vermeil case (sterling silver with a layer of gold on top), a handy quartz movement, and minimalist dials in a number of eye-popping colours. To say that the Must line was an incredible success is an understatement. These watches perfectly captured the Zeitgeist of the colourful 1980s and were much more affordable than Cartier's traditional gold and platinum creations.
Fast forward to 2021 and Cartier has done it again. The new trio of Tanks features colourful dials reminiscent of the 1980s and some notable improvements. First of all, the cases are now executed in durable stainless steel. Second, the new quartz movements feature an impressive 8 year power reserve.
We're offering these three Tanks as a complete lot. The watches feature the iconic rectangular Tank case executed in stainless steel with a diameter of 33.7 mm x 25.5 mm. Each watch features a lacquered dial in a different colour—burgundy, green, and navy blue—with colour-matching alligator leather straps on stainless steel Ardillon buckles. The dials are ultra minimalist compared to the classic Tank dials, foregoing all visual clutter and leaving only the silver printed Cartier signature that matches the stainless steel sword hands. One detail that remains is the iconic blue sapphire tipped crown.
The watches are in new condition and come with the original box and papers and 8-year factory warranty.
Introduction
Cartier Louis-François Cartier took over his master's jewellery workshop in 1847. Over the years, his sons and grandsons inherited the family business and expanded the brand by opening shops in New York and London. King Edward VII of the United Kingdom granted Cartier a prestigious royal warrant in 1904, calling the brand "the jeweler of kings and the king of jewellers." Such was the renown of Cartier, that royal warrants soon rolled in from all over the world (among which, Belgium, Egypt, Greece, Siam, Spain, Portugal, and Russia). While Cartier is known primarily for its jewellery, it also has a storied history in watchmaking. Cartier's first foray in watchmaking came in 1888, offering exclusively ladies models. In 1904, Louis Cartier gave his friend and Brazilian aviation pioneer Santos Dumont to wear during his flights. Until then, wrist watches were worn exclusively by women and men opted for the traditional pocket watch. The 'Santos-Dumont' was not only the first wristwatch geared towards men but also the first pilot's watch!
Shipping
Packages are generally dispatched within 2 days after receipt of payment and are shipped within the Netherlands by Registered Mail through the Dutch carrier PostNL and for other countries by Fedex. Consult us if you prefer another method of shipping. For most destinations tracking is available.