Rolex GMT-Master 1675/8 'Nipple Dial'
Sold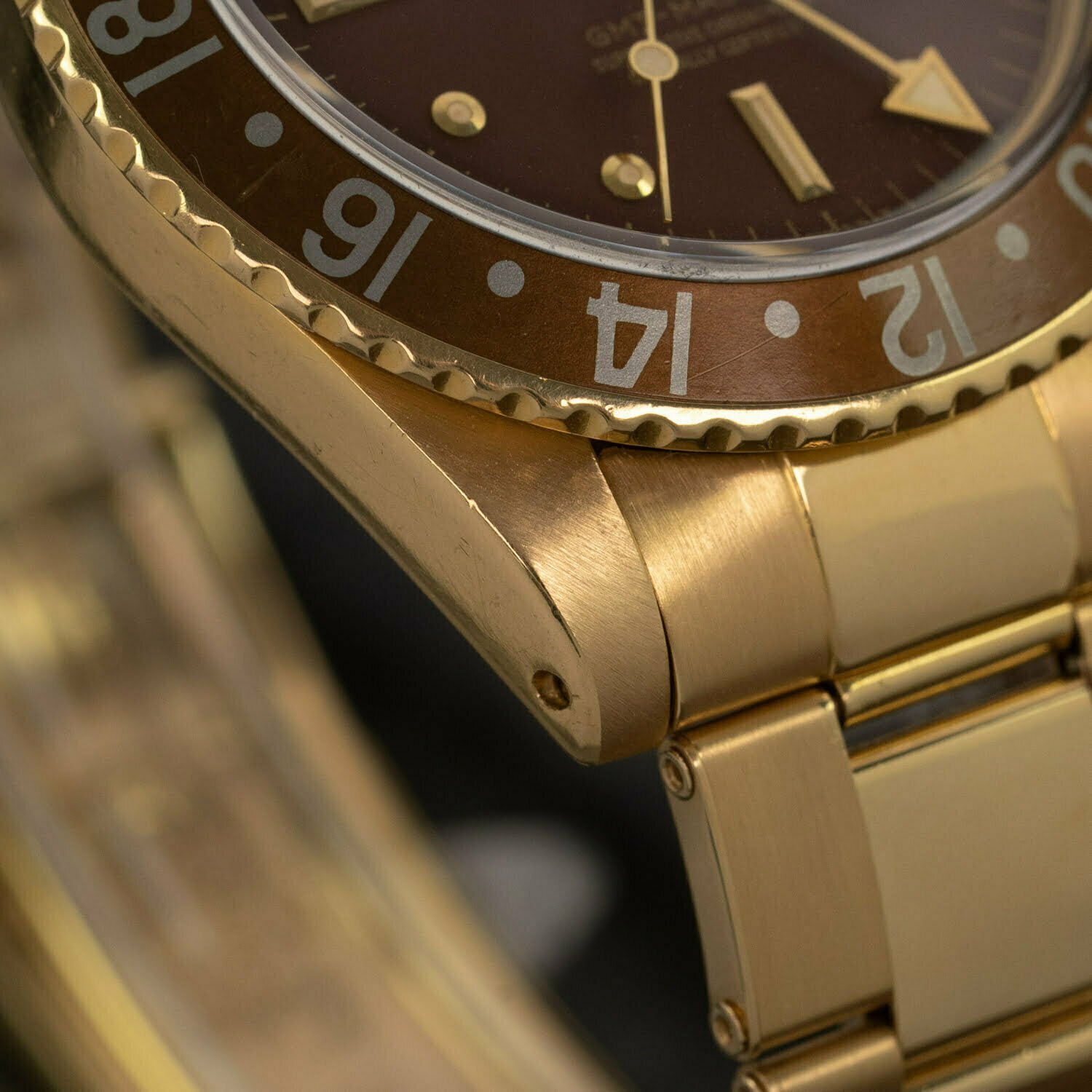 Rolex GMT-Master 1675/8 'Nipple Dial'
The GMT-Master is the quintessential pilot's watch and with this 18K yellow gold bref. 1675 you'll be flying high all day.
We love vintage Rolex sports watches because they combine the rugged aesthetic of a toolwatch with the elegant design cues of yesteryear. Take the ref. 1675: it's undoubtedly a toolwatch but much sleeker and thinner than its contemporary brethren.
This ref. 1675/8 from 1973 trades in the no-nonsense 40 mm stainless steel Oyster case for a luxurious 18K yellow gold one. The 18K yellow gold rotating bezel features an anodized aluminium inlay in a mesmerizing toffee color. The matte dial features a matching color scheme with a brown background and gold printing. Early gold GMTs like this one sport characteristic small markers that are reminiscent of nipples, earning them the moniker 'nipple dial'.
The watch is in great condition with thick lugs and comes on an 18K yellow gold riveted Oyster bracelet.
Introduction
Rolex GMT-MasterFasten your seatbelts for the story of the inimitable Rolex GMT-Master! As civil aviation took off after World War II, airlines began to fly over longer distances. As a result, pilots required accurate watches that could display multiple time zones simultaneously.In the early 1950s, Pan American Airways (Pan-Am) requested Rolex to develop a watch for this very purpose. The GMT-Master ('GMT' standing for 'Greenwich Mean Time') was introduced in 1954. It featured a 24-hour hand alongside the regular 12-hour hand. In combination with a bidirectional 24-hour bezel, this GMT hand could be used to read the home time zone while the 12-hour hand displayed the 'local' time.Despite its close links to aviation and its professional purpose, the Rolex GMT enjoys a fanbase far beyond the pilots it was originally intended for. Over the years Rolex has introduced many wonderful variations of the GMT: take your pick!Ref. 1675The ref. 1675 GMT-Master replaced the legendary ref. 6542 in 1959 and enjoyed an unusually long production run: over 20 years! The first 1675s received the well-known 'pointed crown guards,' which were replaced by regular rounded crown guards in 1964/1965. The dial of the 1675 also changed over time, starting with a glossy gilt chapter ring dial and ending with a matte radial dial (with significant variation in between, like the rare 'exclamation mark,' 'underline' and 'double-swiss' dials).The 1675 was produced mostly in steel but was also available in 18K yellow gold or two-tone (steel and gold). The 1675 was the first Rolex 'tool watch' for which a factory-fitted jubilee bracelet was available as an option.
Specifications
SKU

7281

Case Dimensions

Case Material

Dial

Glass

Model

Movement

Reference

1675/8

Year
Shipping
Packages are generally dispatched within 2 days after receipt of payment and are shipped within the Netherlands by Registered Mail through the Dutch carrier PostNL and for other countries by Fedex. Consult us if you prefer another method of shipping. For most destinations tracking is available.