Rolex Explorer II 1655 'Tiffany & Co., Albino'
Sold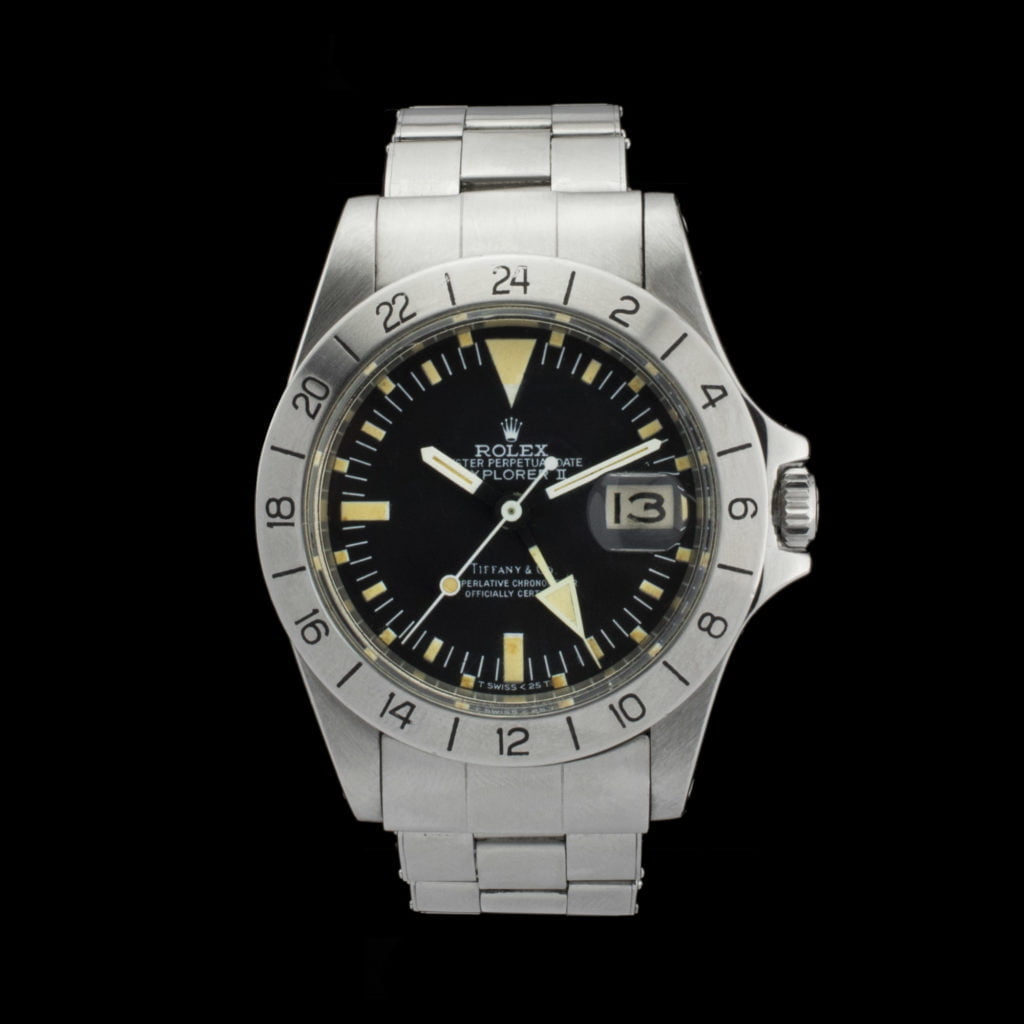 Rolex Explorer II 1655 'Tiffany & Co., Albino'
The 1655 is the very first reference of the Rolex Explorer II. This one dates back to 1980 and has been kept in beautiful all-original condition. Often referred to as the "Steve McQueen", the 1655 was actually never worn by the King of Cool, so why not call this particular one the "Tiffany Albino". Let us elaborate. The well-known orange hand has turned all white, this phenomenon is called "Albino". Furthermore, the period correct MK4 dial is signed by American retailer "Tiffany & Co." and the watch is supplied with its original USA stamped Oyster bracelet. These rare features make this special watch extra desirable.
Introduction
Rolex Explorer IIA new chapter of the storied history of the Rolex Explorer opened with the release of the Explorer II in 1971. Just like its older sibling, the Explorer I, the Explorer II was a sturdy steel toolwatch but bigger and more outspoken. While its smaller brother sat on the wrists of mountaineers, the Explorer II was designed for the men and women that ventured into the deepest caves and across the far poles. As it is difficult to distinguish between day and night in these places, the watch features an extra hour hand and a fixed 24-hour bezel so that you can always read the correct time. But don't worry, even if you spend most of your time in the inhabited world you won't be this awesome watch is the perfect wrist companion!REF. 1655The very first Explorer II model was the ref. 1655 released in 1971. An eminently professional timepiece. This early reference was fitted with the calibers 1570 and 1575, the same movements as the GMT-Masters of that era, and featured a funky design; typical for the early 1970s.This reference is best known by its nickname 'Freccione,' which means arrow in Italian, after the watch's characteristic orange arrow-shaped 24-hour hand. Curiously, the 1655 is often associated with the ever so cool Steve McQueen. So much so, that many refer to it as the "the Steve McQueen," even though not a single picture can be found of him actually wearing the watch!
Specifications
SKU

4429

Inlay

Bezel material

Caliber

Case Dimensions

Index

Model

Reference

1655

Year

Case Material

Glass
Shipping
Packages are generally dispatched within 2 days after receipt of payment and are shipped within the Netherlands by Registered Mail through the Dutch carrier PostNL and for other countries by Fedex. Consult us if you prefer another method of shipping. For most destinations tracking is available.