Rolex Day-Date 18028 'Blue Stella'
Sold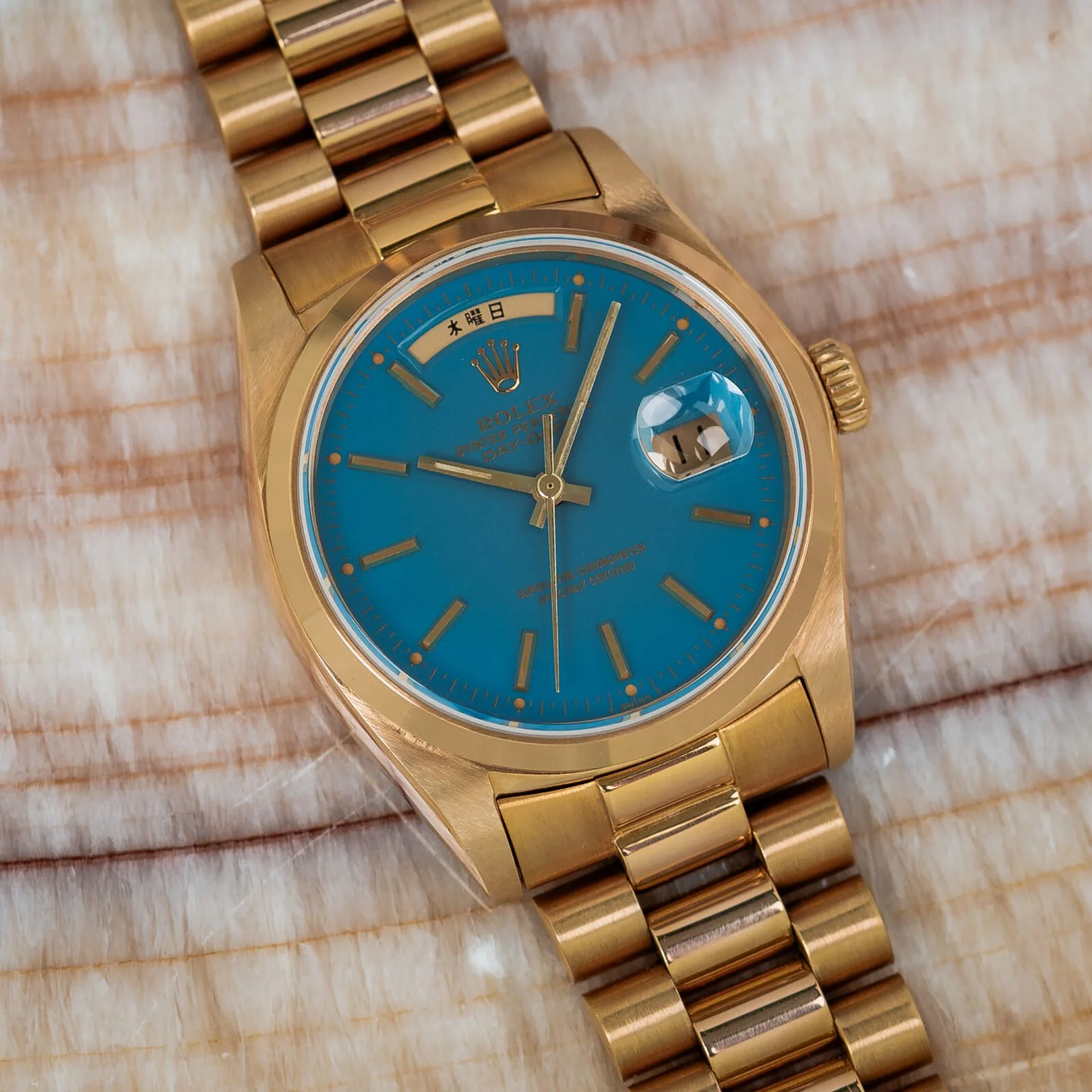 Rolex Day-Date 18028 'Blue Stella'
A happy accident or maybe hindsight really is 20/20. What it all boils down to is that the outrageously colored Rolex dials from the 1970s and 1980s are among the most sought after vintage watches nowadays.
And it's not that hard to understand why. During the 1970s and 1980s Rolex offered brightly colored lacquered dials, nicknamed 'Stella' by Italian collectors, as an option for the Day-Date. This option wasn't particularly popular. After all, you had to be a gentleman (or lady) of considerable means to be able to afford a Day-Date and it was unlikely that a person of that stature would wear a gold watch with such a loud, dare we say gaudy, dial. As a result, Stella dial Day-Dates are very collectible nowadays.
A number of different colors exist, but this bright blue one really pops And this particular lacquered dial is a superlative execution in every which way. The lacquer is in absolute pristine condition (whereas many stella dials have developed cracks over the years). Moreover, the tritium luminous compound in the hands and the plots have turned a sensational deep cream, almost brownish, color over time. The gold text is crisp and the markers nor hands show any signs of watchmakers malpractice. A cool little extra is the original Japanese day disc!
An exceptional dial requires the right case and bracelet. To us, the best packaging for a Stella dial is the ref. 18028 Day-Date: the classic 36 mm Oyster case with the polished domed bezel. The bracelet, just like the case, remains very well preserved.
This superlative watch dates back to 1978: the first year of production of this ref, which matches the dial period as it is signed "T Swiss T", instead of the later -less rare- "T Swiss made T" dials. he ref. 18028 is powered by the caliber 3055 automatic movement with a convenient single-quickset mechanism.
Shipping
Packages are generally dispatched within 2 days after receipt of payment and are shipped within the Netherlands by Registered Mail through the Dutch carrier PostNL and for other countries by Fedex. Consult us if you prefer another method of shipping. For most destinations tracking is available.