Rolex Day-Date 1803 'Seafoam Stella'
Sold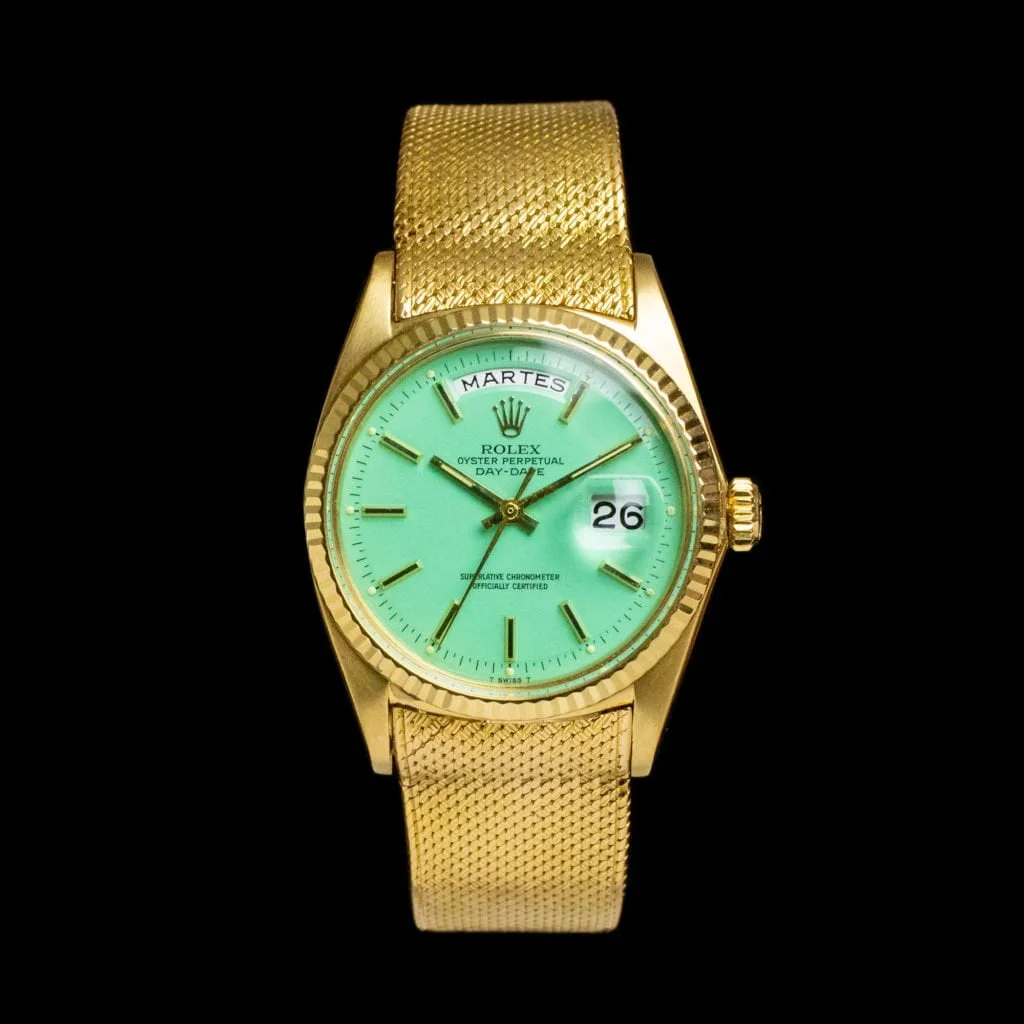 Rolex Day-Date 1803 'Seafoam Stella'
The essence of luxury time-keeping. This time with a funky twist.
Think of the watch that a president would wear. You will probably imagine a watch that has status, portrays hard work, responsibility, success, power, respect and you will probably (if not, definitely) be thinking of the Rolex Day-Date. The Rolex Day-Date was the first automatic, waterproof chronometer wristwatch that indicated the date and the day of the week. The 1800-series, the third generation of Day-Dates, were introduced in 1959 and housed the calibers 1555 (early models) and later on 1556.
The Day-Date is a serious and formal watch. This changed, however, during the '70s. Day-Dates with Stella dials made their appearance in the market. These dials, made of lacquered enamel, had bright, funky colours that were typical for the 1970s. For example, the one that we have in stock right now has a light turquoise colour. Hence, the nikcname 'Seafoam'. The name 'Stella' comes from either the artist Frank Stella (he was famous for using bright colours) or the name has been derived from the Latin word for star. Anyway, they were not very popular at that time, so production stopped quickly. Nowadays, these pieces are highly sought-after by collectors, celebrities and style icons. The piece that we can offer you dates back to 1970 and is supplied with a very rare and collectible bracelet: an original Rolex Milanese bracelet that has an amazing finish and makes this watch even more special.
Introduction
Rolex Day-DateIn 1956, Rolex introduced one the most iconic watches ever made: the Day-Date. The Day-Date was the first waterproof self-winding chronometer certified wristwatch with a day and date function. And to top it off, it was only available in gold or platinum! Rolex also designed a new three-link bracelet, known as the 'President,' to pair with this special watch. With exception of the most modern executions, the Day-Date comes exclusively in a 36mm case.This is the very essence of luxurious time-keeping. Thanks to its popularity among a lot of prestigious people (for example, lots of presidents, hence, its nickname), it became Rolex' flagship model. Over the years this model enjoyed associations with various 'kinds of people', from celebrities to Mafiosi (like Tony Soprano). They had all one thing in common: being successful in their area of expertise. To this day the Day-date is still synonymous with prestige and style. With exception of the most modern models the Day-Date comes in at 36mm. Do you earn this watch?
Specifications
SKU

5015

Bezel material

Caliber

Case Dimensions

Case Material

Glass

Model

Movement

Reference

1803

Year
Shipping
Packages are generally dispatched within 2 days after receipt of payment and are shipped within the Netherlands by Registered Mail through the Dutch carrier PostNL and for other countries by Fedex. Consult us if you prefer another method of shipping. For most destinations tracking is available.