Rolex Explorer 6610 'Gilt'
€

21.500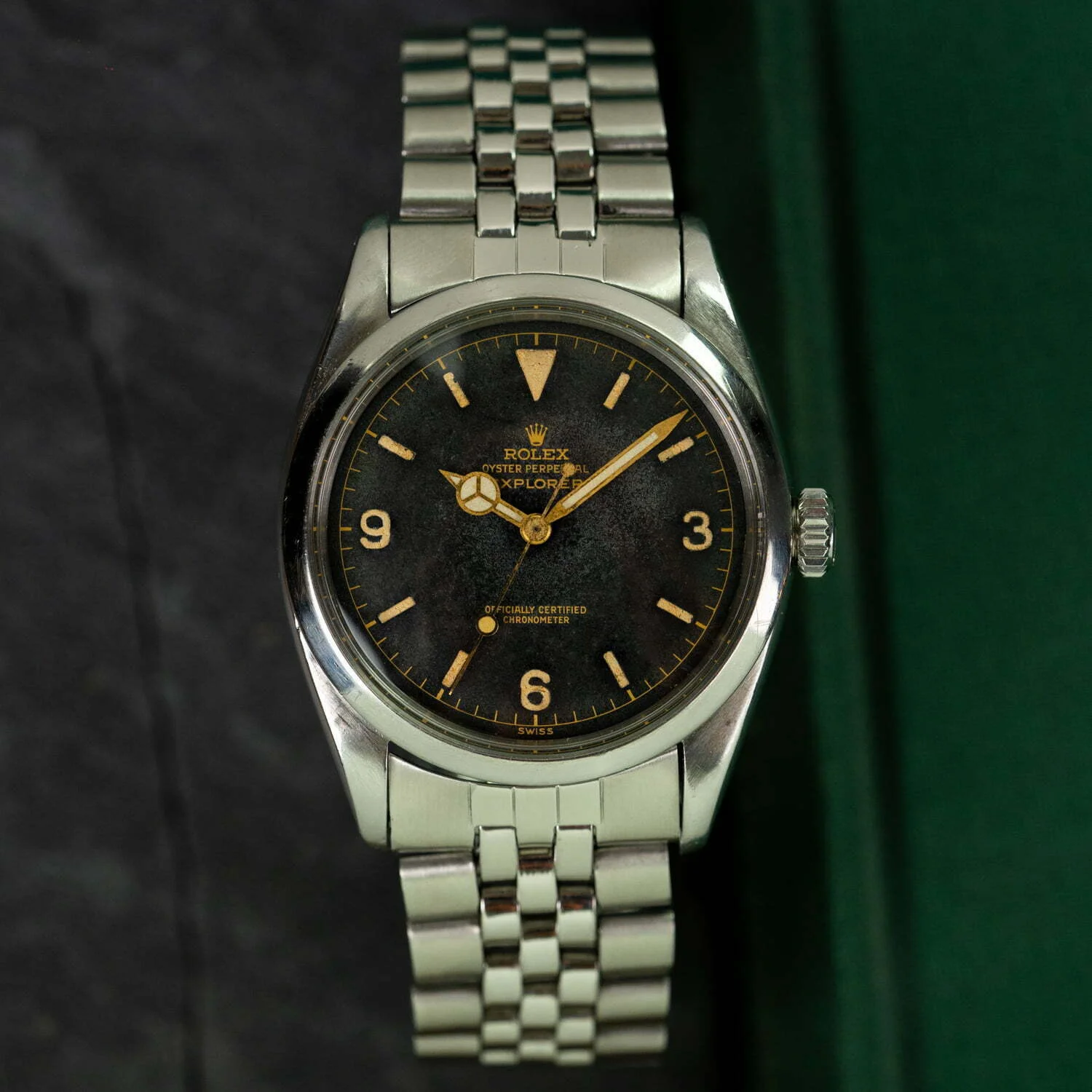 Rolex Explorer 6610 'Gilt'
€

21.500
We built the Rolex Explorer because there isn't any watch repair shop on top of the Matterhorn, read the headline of the 1964 Rolex advertisement for the Explorer.
Eleven years prior, in 1953, Edmund Hillary and Tenzing Norgay carried Rolex Oyster Perpetuals with them during the first successful ascent of the Mount Everest. To commemorate this achievement, Rolex launched the Explorer model.
The 6610 was one of the earliest models within the Explorer line, having seen production for just a few years from 1955 until 1959 prior to being replaced by the 1016. It was also the first to feature most of the design we so closely associated with the Explorer until this very day: a no-nonsense 36 mm waterproof stainless steel Oyster case and the famous black 3-6-9 dial configuration with Mercedes hands. The reference 6610 is not only an important milestone in the development of Rolex' toolwatch lineup but also a rare one due to its short production run.
This Rolex Explorer from 1957 features one of the most stunning dials we've ever come across. The dial was created by a galvanic coating process, in which the dial plates were first stamped with a clear coating to define the text and chapter ring, after which a black substance was applied using a chemical binding process. This results in a glossy black dial with gold colored details. The use of radioactive radium in the hands as well as the hour markers has caused the dial coating and paint to fade creating a beautiful nebulous effect. Meanwhile, the radium indices and luminous material in the hands have aged to a pleasing creamy color that matches well with the gilt details on the dial.
The watch is in good condition, especially given its age and rarity. The stainless steel case features thick lugs and comes with a folded Jubilee bracelet.
Introduction
Rolex Explorer IRolex has a storied history of building tool watches dedicated to professional users. In 1953, Edmund Hillary and Tenzing Norgay were the first to reach the summit of Mount Everest, with a Rolex Oyster Perpetual on Hillary's wrist. In honor of the expedition, Rolex released the Explorer later that year.Over the years, the Explorer I has been produced in various executions. Except for the very earliest ones, they all have one thing in common: the characteristic 3-6-9 numerals on the dial (the so-called 'Explorer dial').
Specifications
SKU

6492

Case Dimensions

Case Material

Dial

Glass

Caliber

Movement

Reference

6610

Year
Shipping
Packages are generally dispatched within 2 days after receipt of payment and are shipped within the Netherlands by Registered Mail through the Dutch carrier PostNL and for other countries by Fedex. Consult us if you prefer another method of shipping. For most destinations tracking is available.
Rolex Explorer 6610 'Gilt'
€

21.500