Rolex Sea-Dweller 1665 'Double Red MK IV'
Sold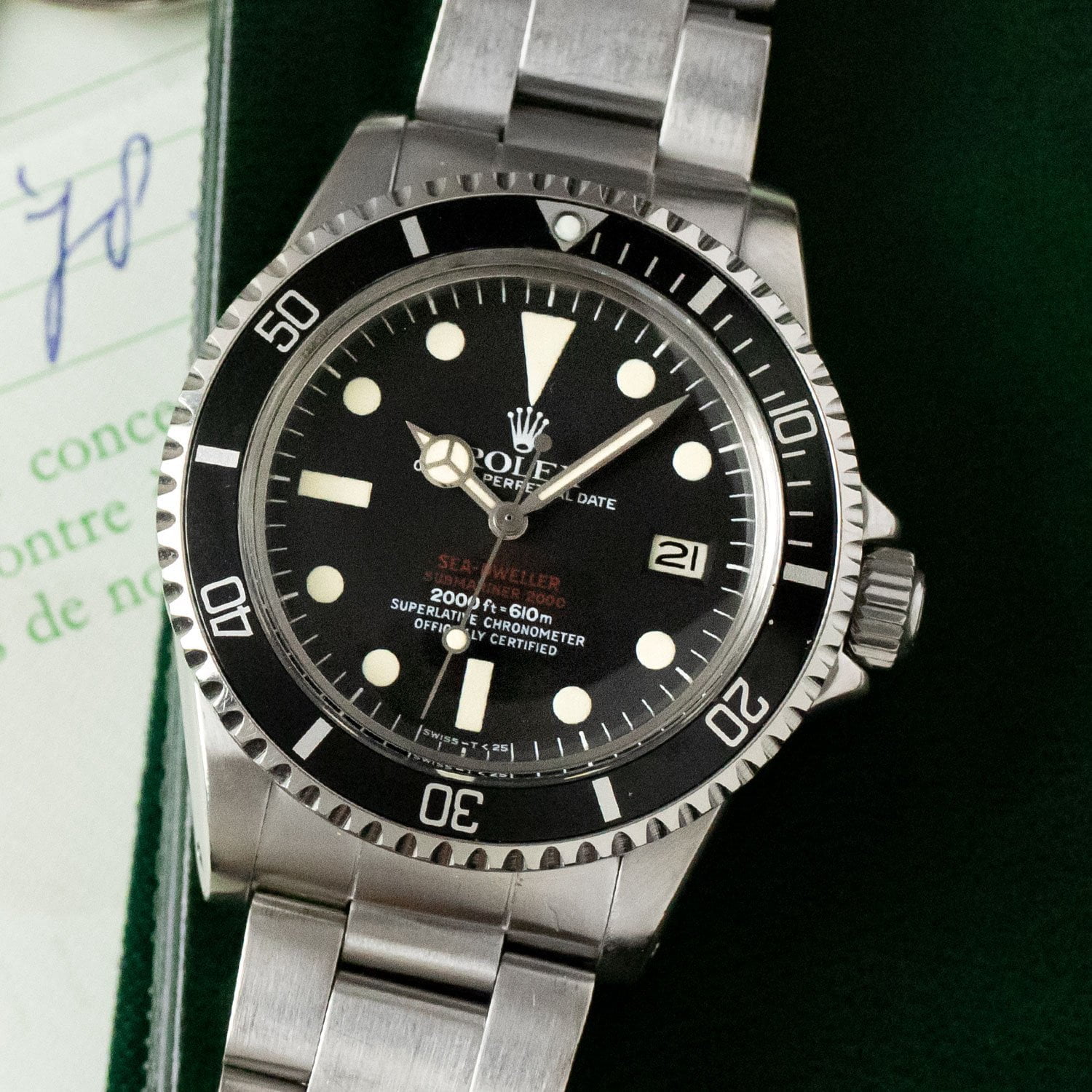 Rolex Sea-Dweller 1665 'Double Red MK IV'
"When Comex divers go down to 2000 feet, only one watch is good enough to dive with them." This was the title of a Rolex ad back in the '60s, when the Sea-Dweller got introduced out of a collaboration with Comex, an international deep-sea diving organization. So, if you're into diving, we strongly suggest you to pick up the 'Double Red' we already have on offer. However, if you want to go down that deep, it is recommended to have a partner with you instead of going on your own. Therefore, Amsterdam Vintage Watches has decided to offer you a second Double Red Sea-Dweller. However, this time with box and papers. Now, you and your diving partner can both plunge into water in style. This is a very late specimen as it dates back to the last year of production. The dial displays the word Submariner, which tells that the Sea-Dweller evolved out of the Submariner. Both watches have aesthetic similarities. However, there are also major distinctions between them; most importantly, instead of 660 ft. = 200 m., the Sea-dweller was a great companion to reach depths of 2000 ft. = 610 m. under water. Moreover, the helium escape valve could relieve helium particles in order to release pressure. Otherwise, the plexiglass would pop off the watch. This example has an MK IV dial. Basically, this means that, in comparison to Sea-Dwellers produced in the previous years, the white characters on the dial are larger, it has a closed 6 and the crown above the word ROLEX is well-defined. The watch comes on its original stainless steel Oyster bracelet.
Introduction
Rolex Submariner Sea-DwellerVisionary Hans Wildorf set out to make the world's first waterproof and dust proof wristwatch and so in 1926 the 'Oyster case' was created. Then later on in 1953, the Rolex Submariner was born, with a water depth rating of 330ft/100M making it one of the world's first wristwatches designed for the upcoming sport of scuba diving. The wristwatch was created for divers who needed a precise watch which could scale to such depths and be a reliable and accurate way of measuring (with the turning bezel) the time spent underwater. A major aspect of creating such a time piece was to make it easily legible yet aesthetically pleasing, hence the large contrasting white tritium hour markers and Mercedes hand on the black dial.During the 1960s, the needs of professional divers working at great depths led to the development of the first 'ultra water resistant' tool watches designed for conducting safe diving operations at 300 m (1,000 ft) depths. The Rolex Oyster Perpetual Sea-Dweller Submariner 2000 that became available in 1967 was developed from the Submariner for the Comex S.A. (industrial deep-sea diving company). By increasing crystal thickness and was produced in several variations. It had a depth rating of 610 metres (2,000 ft) and its Rolex reference number was 1665, powered by calibre 1575. Most Sea-Dweller watches incorporate a helium escape valve for saturation diving. (Early Sea-Dwellers did not always have the helium escape valve.) The model is also distinguished by the absence of the date magnifier ('cyclops') present on most other Rolex models. The Sea-Dweller diving watch range has been standard issue for Comex divers since 1977 and although Rolex designed the Sea-Dweller purely as a dive tool, not a fashion accessory, it will look fantastic on the wrist.
Specifications
SKU

5629

Bezel material

Boxed

Caliber

Case Dimensions

Case Material

Dial

Documents

Glass

Inlay

Model

Movement

Reference

1665

Year
Shipping
Packages are generally dispatched within 2 days after receipt of payment and are shipped within the Netherlands by Registered Mail through the Dutch carrier PostNL and for other countries by Fedex. Consult us if you prefer another method of shipping. For most destinations tracking is available.