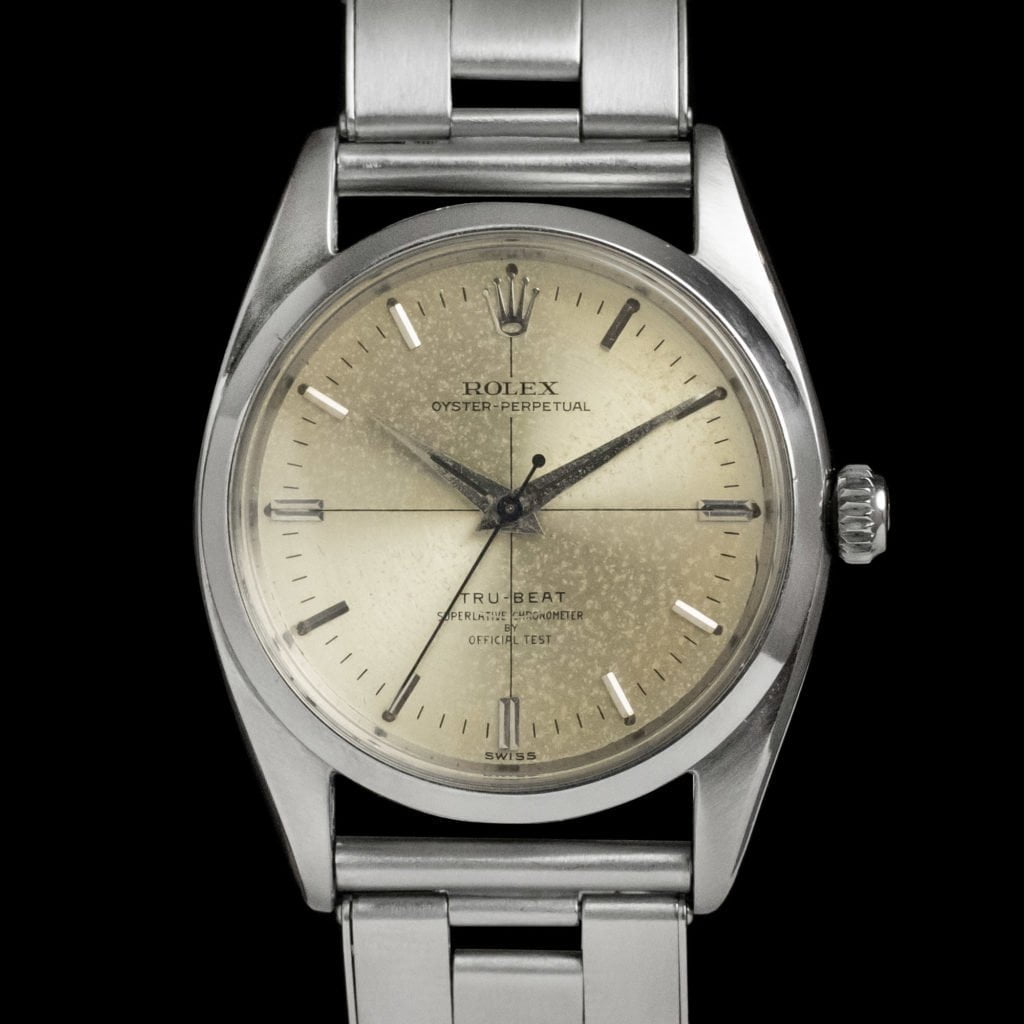 ♫Won't you help me Doctor Beat? Doc, doc, doc, doc, Doc Tru-Beat. ♫We're thrilled to bring you our very first Rolex Tru-Beat carrying reference 6556. This awesome and rare piece dates back to the year 1955 and was made to help doctors measure hart beat. The watch's name comes from true beat, which is also known as dead beats or dead seconds. Thanks to the legendary caliber 1040, the one that terrifies every watchmaker due to its complexity, this watch doesn't have the famous sweeping seconds. As a matter of fact, this watch ticks like a quartz, which makes it easier for doctors to precisely measure a patient's hart beat. People in the '50s weren't convinced by the Tru-Beat's ticking seconds and as a result sales were disappointing and Rolex stopped the production after 5 years. Due to the lack of spare parts, many of the 1040 calibers were replaced by caliber 1030. This makes it very hard to find an all-original, ticking Rolex Tru-Beat nowadays.The watch is made out of stainless steel and comes with straight end links and a Rolex U.S.A., riveted Oyster stretch bracelet produced by Gay Frères. Under the plexy crystal we'll find the radium, champagne-gold, cross-hair dial. Just below the word 'Tru-Beat' on the dial the text 'Superlative Chronometer by Official Test' is displayed instead of 'Superlative Chronometer Officially Certified'. This alternative text is something we, at Amsterdam Vintage Watches, have never seen in person and we could only find it in a few other Rolex watches from that exact year. So, if you're searching for a Tru-Beat and a regular one isn't special enough for you, then you definitely have to take a look at this piece.
Introduction
Rolex Tru-Beat 6556The Rolex Tru-Beat 6556 is one of the most sought-after Rolex watches ever made thanks to the short production period of 5 years. Due to the lack of spare parts of the 1040 'Dead Seconds' caliber it's very hard to find an all-original piece. The Tru-Beat was made to help doctors measure hard beat more precisely than with a regular sweeping seconds watch.
Specifications
SKU

5080

Bezel material

Caliber

Case Dimensions

Case Material

Glass

Index

Model

Movement

Reference

6556

Year
Shipping
Packages are generally dispatched within 2 days after receipt of payment and are shipped within the Netherlands by Registered Mail through the Dutch carrier PostNL and for other countries by Fedex. Consult us if you prefer another method of shipping. For most destinations tracking is available.