Rolex Day-Date 19058 'Wood dial'
Sold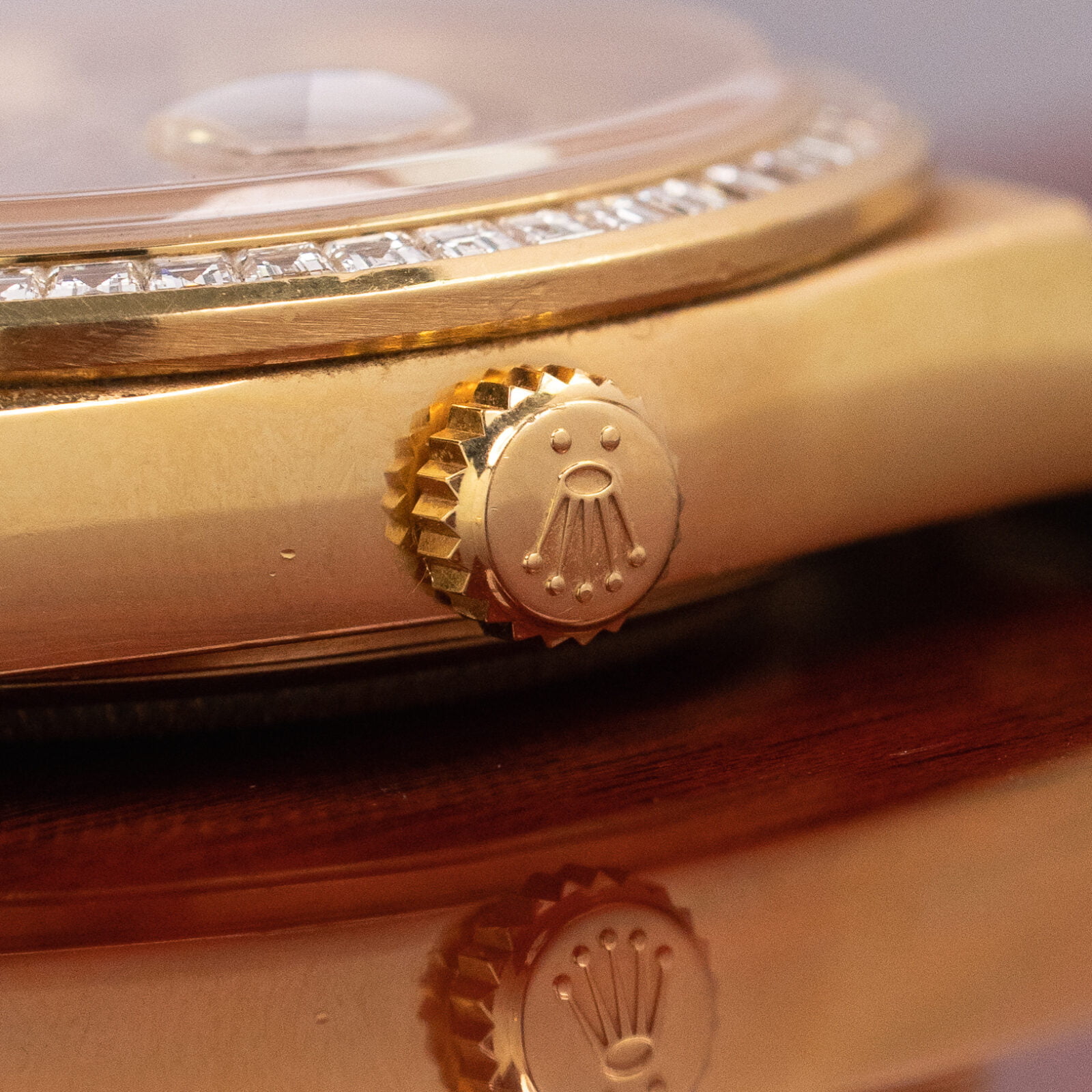 Rolex Day-Date 19058 'Wood dial'
For the very first time in AVW history we can add a (non-Il Texano) Oysterquarz to our collection. Obviously, we won't bother you and more importantly ourselves with a plain Jane execution from this battery-powered model line and wouldn't be ourselves if we didn't start our OQ journey (for how long it lasts…) with a masterpiece like this.
The Oysterquartz was introduced in 1977 and the yellow gold variant was only produced and sold in small numbers because of the massive amount of gold and therefore exceptionally high price for a quartz wristwatch. Because of the ridiculous high prices, those models were only reserved for the rich, famous and people who sold land to mr. André Heiniger. Yes, that's right this watch was gifted by Mr. Heiniger to the man who sold the land where a large part of the Rolex factory is located today.
This extraordinary execution dates back to the year 1985 and can be seen as one of the top-notch examples that Rolex produced during the Quartz crisis. The 36-millimeter measuring Oyster case is executed with a very rare 'Princess cut' diamond bezel. (Often misnamed online as 'Baguette bezel'). Underneath it's sapphire crystal we find a centered string-diamond-set on a 'two-tone' wood dial, crafted from African Mahogany- and Burlwood.
The watch remains in an exceedingly well-preserved condition and was sold by the daughter of the original owner who provided it with a signed provenance letter. Besides that, it comes with Bucherer-Rolex service papers dating back to 2018.
Introduction
Rolex Day-DateIn 1956, Rolex introduced one the most iconic watches ever made: the Day-Date. The Day-Date was the first waterproof self-winding chronometer certified wristwatch with a day and date function. And to top it off, it was only available in gold or platinum! Rolex also designed a new three-link bracelet, known as the 'President,' to pair with this special watch. With the exception of the most modern executions, the Day-Date comes exclusively in a 36mm case.
Specifications
SKU

7488

Reference

19058

Year

Documents
Shipping
Packages are generally dispatched within 2 days after receipt of payment and are shipped within the Netherlands by Registered Mail through the Dutch carrier PostNL and for other countries by Fedex. Consult us if you prefer another method of shipping. For most destinations tracking is available.