Cartier Tank Arrondie Mecanique
Sold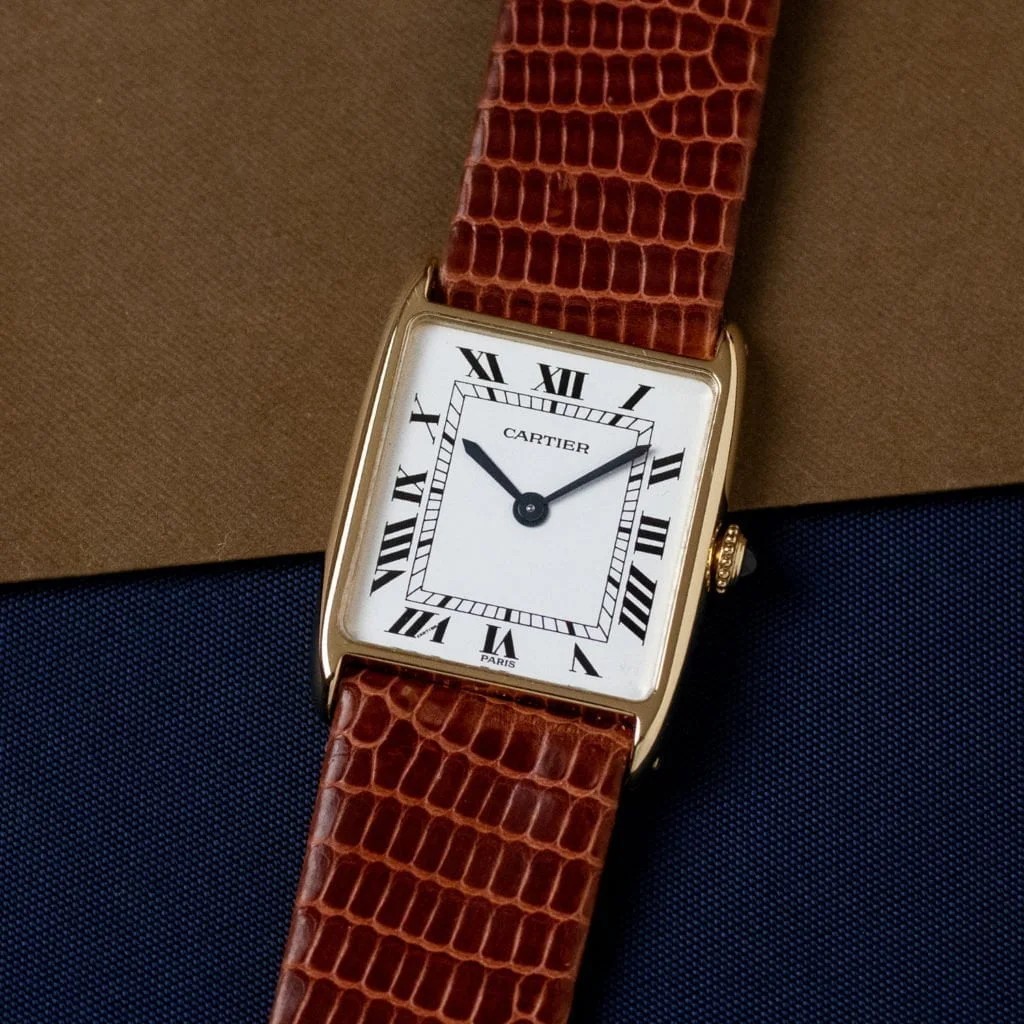 Here's a philosophical question: can a Cartier watch be properly called a Tank if it's not angular? Cartier certainly thought so when it introduced the curvy Tank Arrondie. The Tank family is so recognizable because of its bold straight lines and angular corners. Yet, the Tank Arrondie (french for "rounded") deviates from this family tradition in a subtle way. By shaving the corners off a classic Tank, the Arrondie takes on the slightest hint of a cushion shape. Just enough to pique one's interest but thankfully not enough for it to look like a dated 1970s has-been. Timeless, elegant, with a cheeky curve. This Arrondie Mecanique from the mid-1970s features an 18k yellow gold case, measuring in at 23 x 30 mm, and a lovely manual winding movement. The white dial is executed in true Cartier fashion with black painted Roman numerals, a rectangular painted railroad minute track, and elegant blued swords hands that match the blue sapphire topped crown. The small "Paris" signature at the 6 o'clock position indicates that this watch was originally sold in Cartier's legendary flagship boutique at Paris' Place de Vendôme. The watch was just serviced at Cartier and comes with the corresponding service papers. We've paired the watch with a nice brown lizard leather strap.
Introduction
Cartier  Louis-François Cartier took over his master's jewellery workshop in 1847. Over the years, his sons and grandsons inherited the family business and expanded the brand by opening shops in New York and London. King Edward VII of the United Kingdom granted Cartier a prestigious royal warrant in 1904, calling the brand "the jeweller of kings and the king of jewellers." Such was the renown of Cartier, that royal warrants soon rolled in from all over the world (among which, Belgium, Egypt, Greece, Siam, Spain, Portugal, and Russia). While Cartier is known primarily for its jewellery, it also has a storied history in watchmaking. Cartier's first foray in watchmaking came in 1888, offering exclusively ladies models. In 1904, Louis Cartier gave his friend and Brazilian aviation pioneer Santos Dumont a watch to wear during his flights. Until then, wrist watches were worn exclusively by women and men opted for the traditional pocket watch. The 'Santos-Dumont' was not only the first wristwatch geared towards men but also the first pilot's watch. Tank The Cartier Tank was designed as a tribute to Allied troops and their Renault tanks during the Great War. The first prototype Tank was presented in 1917 to General Pershing, commander of the American Expeditionary Force in Europe during World War I. The watch became available to the public after the war was over in 1919. The Tank is easily recognizable due to its angular case with its vertical crossbars (known as 'brancards') and noticeable crown topped with a sapphire cabochon. Over a hundred years old now, the Tank has known many illustrious owners, among which Andy Warhol, Jackie Kennedy, Yves Saint Laurent, Frank Sinatra and Calvin Klein. It belongs among the most important watches in watch history and is still one of the cornerstones of Cartier's collection.
Shipping
Packages are generally dispatched within 2 days after receipt of payment and are shipped within the Netherlands by Registered Mail through the Dutch carrier PostNL and for other countries by Fedex. Consult us if you prefer another method of shipping. For most destinations tracking is available.