Rolex Day-Date 18239 'Lapis Lazuli'
Sold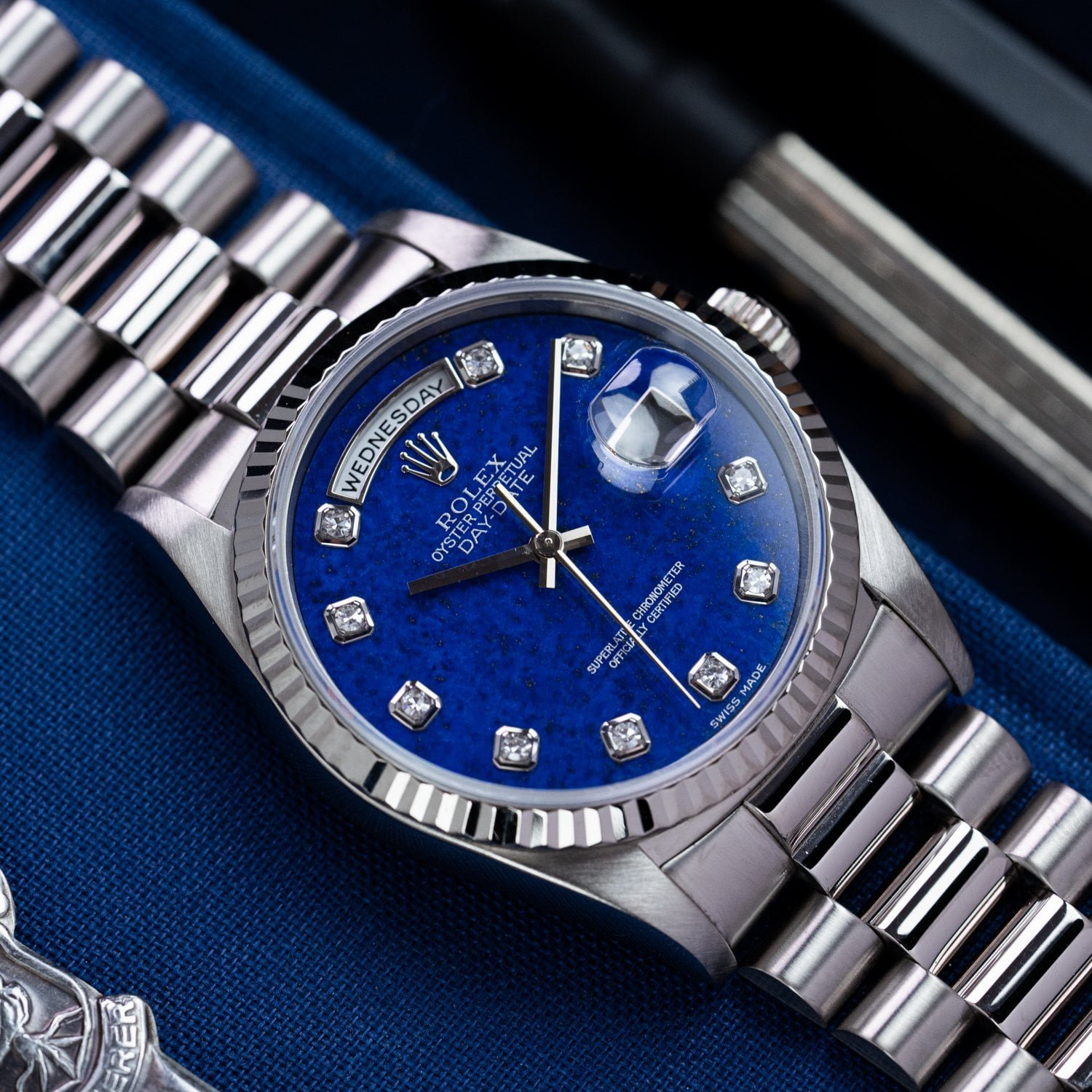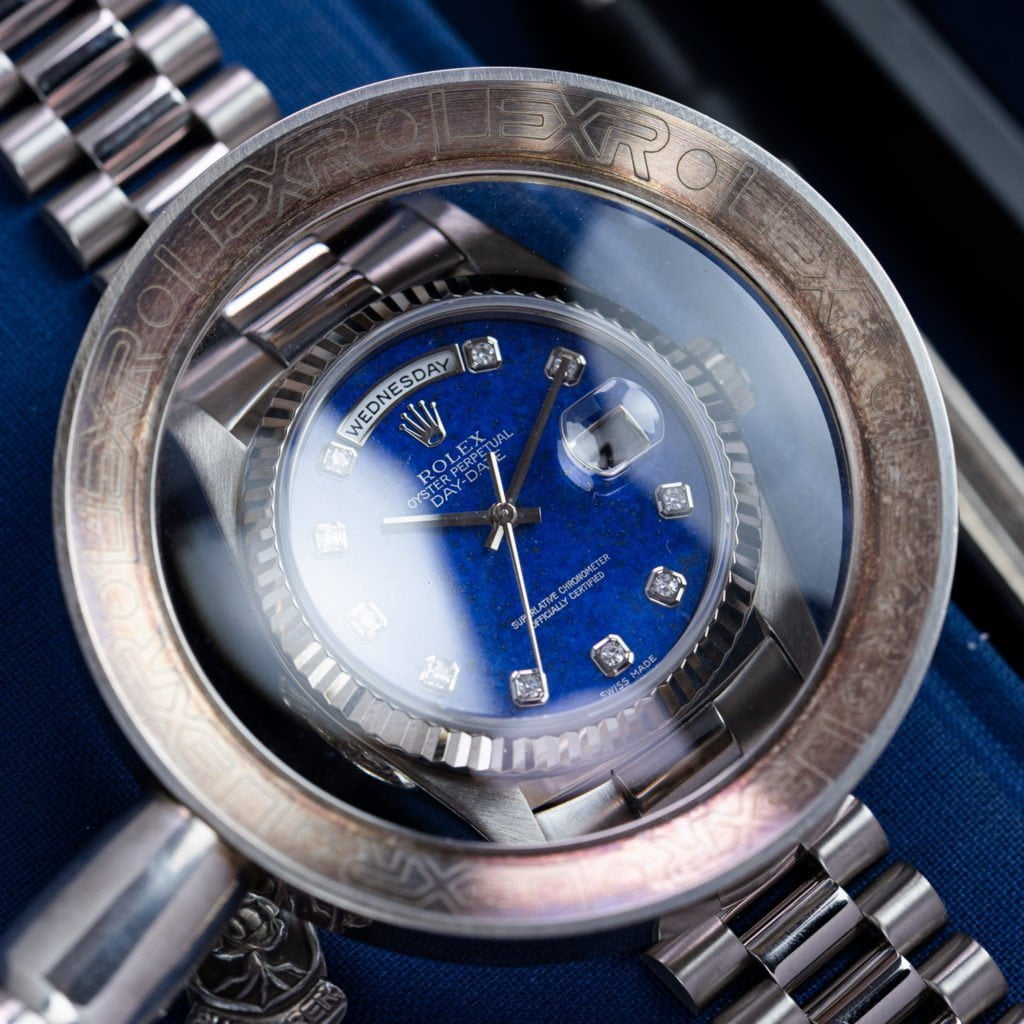 Rolex Day-Date 18239 'Lapis Lazuli'
For a long time, the most reliable way to produce blue paint was to ground down lapis lazuli. Due to its beautiful hue, and exorbitant price, Renaissance and Baroque painters used it almost exclusively to depict the robes of the Virgin Mary. It's no surprise that this regal gemstone makes for a beautiful watch dial.Stone dials are beautiful due to the natural variation of the stones used, but they're also quite fragile. Many of them have developed cracks or rips over the years. Therefore, a flawless dial will increase the value greatly. This gemstone dial is in faultless condition and features the most desirable variation of lapis. Lapis lazuli often occurs in nature with deposits of two other minerals: calcite (which shows as white veins in the stone) and pyrite (which look like gold veins). This dial contains no calcite deposits and some evenly spaced golden pyrite flecks. Most stone dial Day-Dates are devoid of indices. This exceptional variant, however, features applied factory-set diamond markers. While a lapis lazuli Day-Date is uncommon by itself, a lapis dial in a white-gold Day-Date is an exceptionally rare sighting. This 18239 comes in the classic Day-Date packaging: a 36 mm 18k gold Oyster case, with an 18k gold fluted bezel, and a matching 18k gold President bracelet with a concealed clasp. This fifth-generation Day-Date dates back to 1996 and features a sturdy sapphire crystal as well as the updated caliber 3155 automatic movement with the convenient double-quickset function to separately adjust the day and date discs. The watch is in wonderful condition with a sharp case and a tight bracelet.
Introduction
Rolex Day-DateIn 1956, Rolex introduced one the most iconic watches ever made: the Day-Date. The Day-Date was the first waterproof self-winding chronometer certified wristwatch with a day and date function. And to top it off, it was only available in gold or platinum! Rolex also designed a new three-link bracelet, known as the 'President,' to pair with this special watch. With exception of the most modern executions, the Day-Date comes exclusively in a 36mm case.Reference 18xxxThe arrival of the 18xxx series Day-Dates in 1978 ushered in the first signs of the 'modern' watchmaking era for Rolex. These Day-Dates were the first regular production Rolex watches to receive a sturdy and scratch resistant sapphire crystal. To accommodate the new crystal, the iconic Oyster case had to be increased in thickness as well, giving the Day-Date a more modern look.Other significant developments were the change from the beloved pie-pan dials to the new flat dials and the unveiling of a brand new movement. The caliber 3055 introduced a single quickset function, which meant that the date could finally be adjusted separately from the time and date.Like its predecessors, the 18xxx Day-Dates were available with different bezel and case decorations. The most common references are:
Ref. 18026: Domed bezel (platinum)

Ref. 18028: Domed bezel

Ref. 18038: Fluted bezel

Ref. 18039: Fluted bezel (white gold)

Ref. 18046: Diamond-set bezel and index (platinum)

Ref. 18048: Diamond-set bezel and index

Ref. 18049: Diamond-set bezel and index (white gold)

Ref. 18078: Bark-finished bezel in yellow gold (usually paired with President bracelet with bark-finished centerlinks)

Ref. 18079: Bark-finished bezel in white gold (usually paired with President bracelet with bark-finished centerlinks)
Specifications
SKU

6885

Bezel material

Caliber

Case Dimensions

Case Material

Glass

Dial

Model

Movement

Reference

18239

Year
Shipping
Packages are generally dispatched within 2 days after receipt of payment and are shipped within the Netherlands by Registered Mail through the Dutch carrier PostNL and for other countries by Fedex. Consult us if you prefer another method of shipping. For most destinations tracking is available.