Rolex Daytona 6262 'Paul Newman'
€

235.000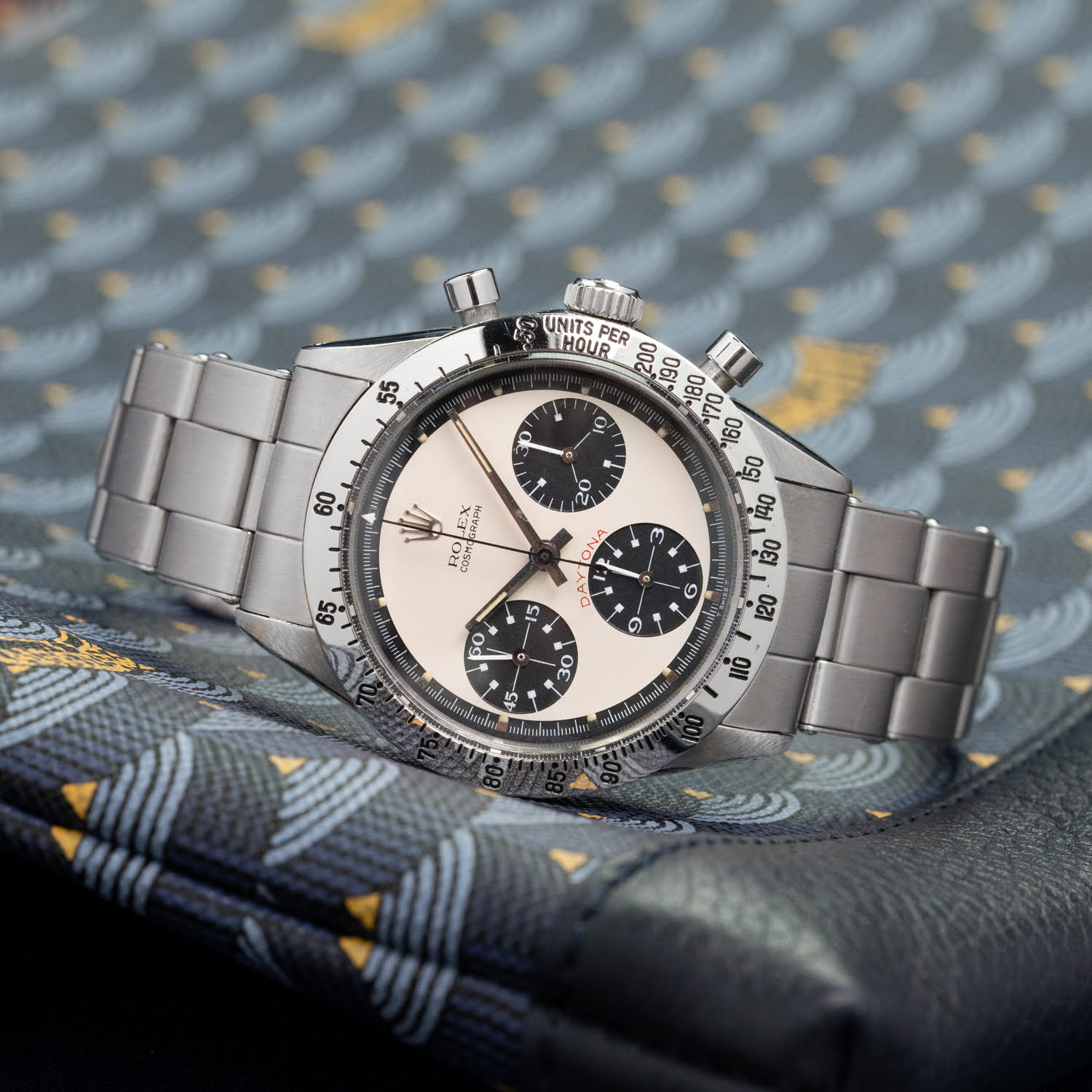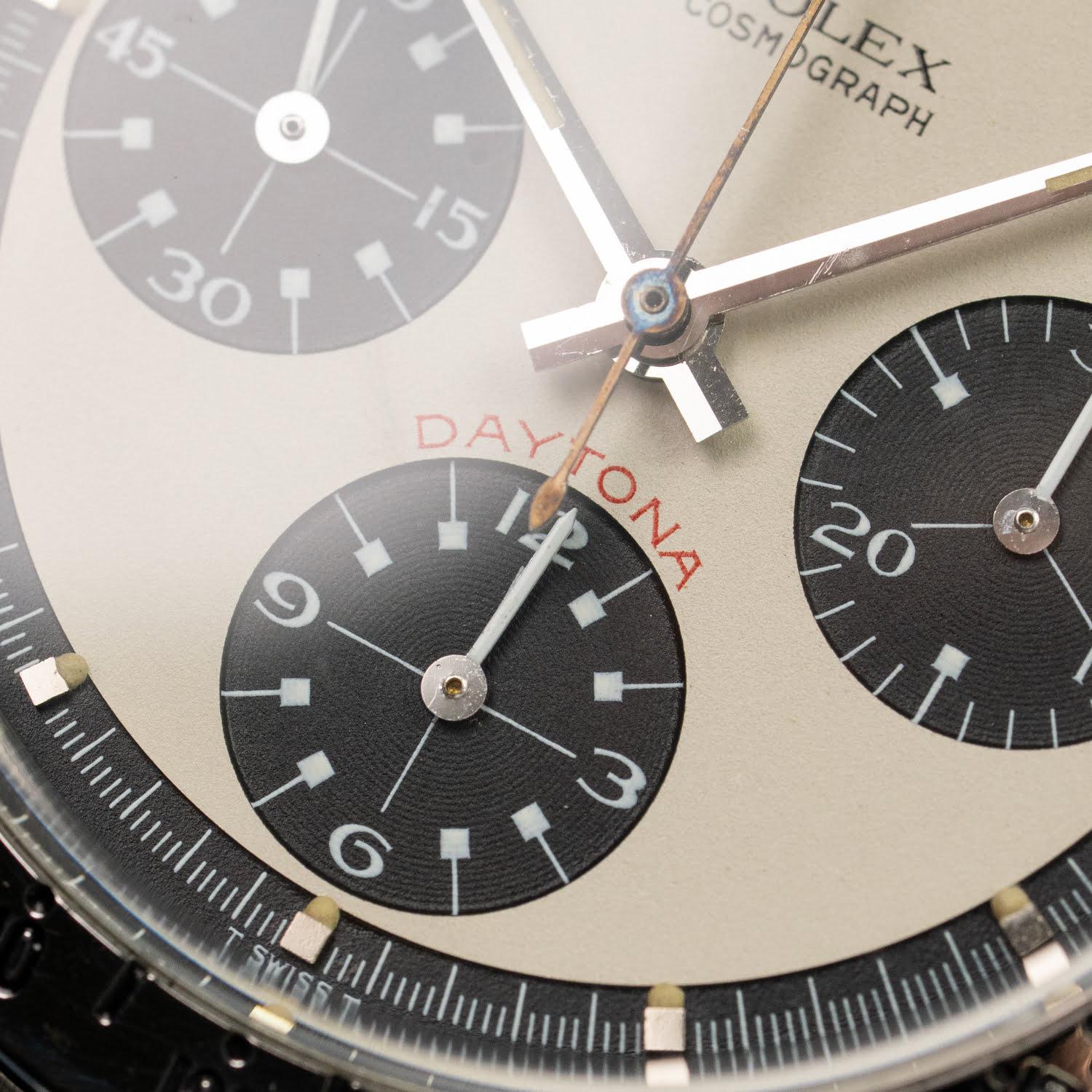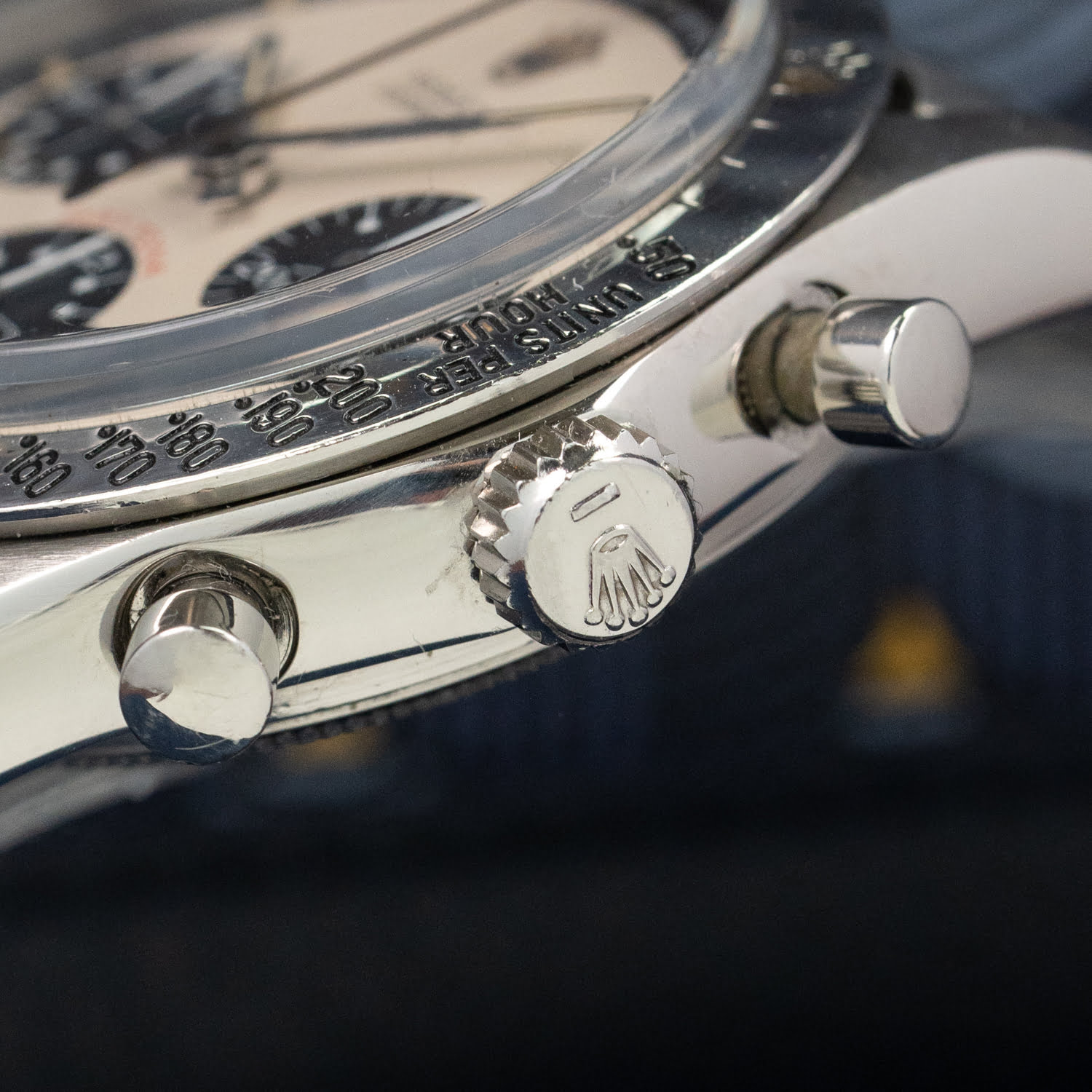 Rolex Daytona 6262 'Paul Newman'
€

235.000
The epitome of a Rolex Daytona is and always will be the 'Paul Newman' iterations.
Introducing the Rolex Daytona 'Paul Newman' Reference 6262 - a timeless masterpiece that embodies the essence of horological history. This remarkable timepiece, despite its vintage charm, stands as a testament to enduring craftsmanship and precision engineering.
Crafted in a bygone era, this Rolex Daytona Reference 6262 from 1970 has gracefully withstood the test of time. Its condition, for its age, is an ode to the meticulous care and reverence it has received over the years. Every facet of this watch has been preserved with utmost devotion, allowing it to retain its charm and functionality. This particular dial has a subtle, barely noticeable stripe between the 9 and 6 o'clock subdials. However most importantly the tritium lume-plots are perfectly intact, original and creamy colored, matching to the hands precisely.
The riveted Oyster bracelet 7205 is stamped from the same year, 1970.
One of the most distinguishing features of this Rolex Daytona is its iconic "Paul Newman" dial. Introduced in 1963; but they were not exactly flying off the shelves. Two years later Rolex introduced an extra dial option with some art-deco design features and an overall different look, dubbed by Rolex 'Exotic dial'; but obviously better known for its unofficial nickname.
The Reference 6262 is the second iteration of the Daytona with the "Exotic Dial" option and was only produced for one year (1970 until 1971). And as much as it looks identical, from the outside, as its predecessor there are quite a few changes on the inside. The upgraded Valjoux 727 movement for example. The base 722 found in the 6239 beats at 18,000 vibrations per hour, whilst the new 727 runs at 21,600 beats per hour.
We are proud to introduce yet another "Paul Newman" amongst the few we have offered very selectively. It has graced the wrists of connoisseurs and collectors, and now, it awaits a new custodian who will continue to cherish and appreciate its enduring beauty.
Introduction
Rolex Cosmograph Daytona
Rolex started making chronographs in the 1930s, but it was only in 1963 that a named product line was introduced: the Cosmograph. In some early advertisements, Rolex referred to the watch as the 'Le Mans' after the famous race track in France, although the name never appeared on the dial. After a few years, the line was officially renamed Cosmograph Daytona, after the racetrack in Florida.
The most noticeable difference between these Cosmograph (Daytona) models and earlier Rolex chronographs was the tachymeter scale (used for measuring distance and speed) that was moved from its traditional placement on the dial to the bezel. Furthermore, the dial was updated with the introduction of contrasting sub-dials.It's hard to imagine now, but Daytonas received little love after their release. Most Daytonas languished in dealer displays for years and only started to get noticed by Italian collectors and dealers in the late 1980s. Nowadays, Daytonas are among the most sought after Rolex models, fetching prices from $20,000 for modern ones to many millions for rare vintage references. A big contrast with the $210 list price when it was first released!
Non-waterproof 62xx Daytonas
The ref. 6239 is the first Rolex Cosmograph reference to follow the 6238 (also known as the 'pre-Daytona'). Between 1963 and 1972, four references featuring pump pushers were produced. As pump pushers meant that these watches were not water resistant, they featured dials without "Oyster" designation. The following four references were produced in this period:
Ref. 6239: Produced from 1963-1969 in steel or gold, with a metal bezel
Ref. 6241: Produced from 1966-1969 in steel or gold, with a metal bezel and black acrylic inlay
Ref. 6262: Produced in 1970 and 1971 in steel or gold, with a metal bezel
Ref. 6264: Produced from 1970-1972 in steel or gold, with a metal bezel and black acrylic inlay
Specifications
SKU

7536

Reference

6262

Caliber

Case Dimensions

Glass

Year
Shipping
Packages are generally dispatched within 2 days after receipt of payment and are shipped within the Netherlands by Registered Mail through the Dutch carrier PostNL and for other countries by Fedex. Consult us if you prefer another method of shipping. For most destinations tracking is available.
Rolex Daytona 6262 'Paul Newman'
€

235.000