Rolex Yacht-Master 168628
Sold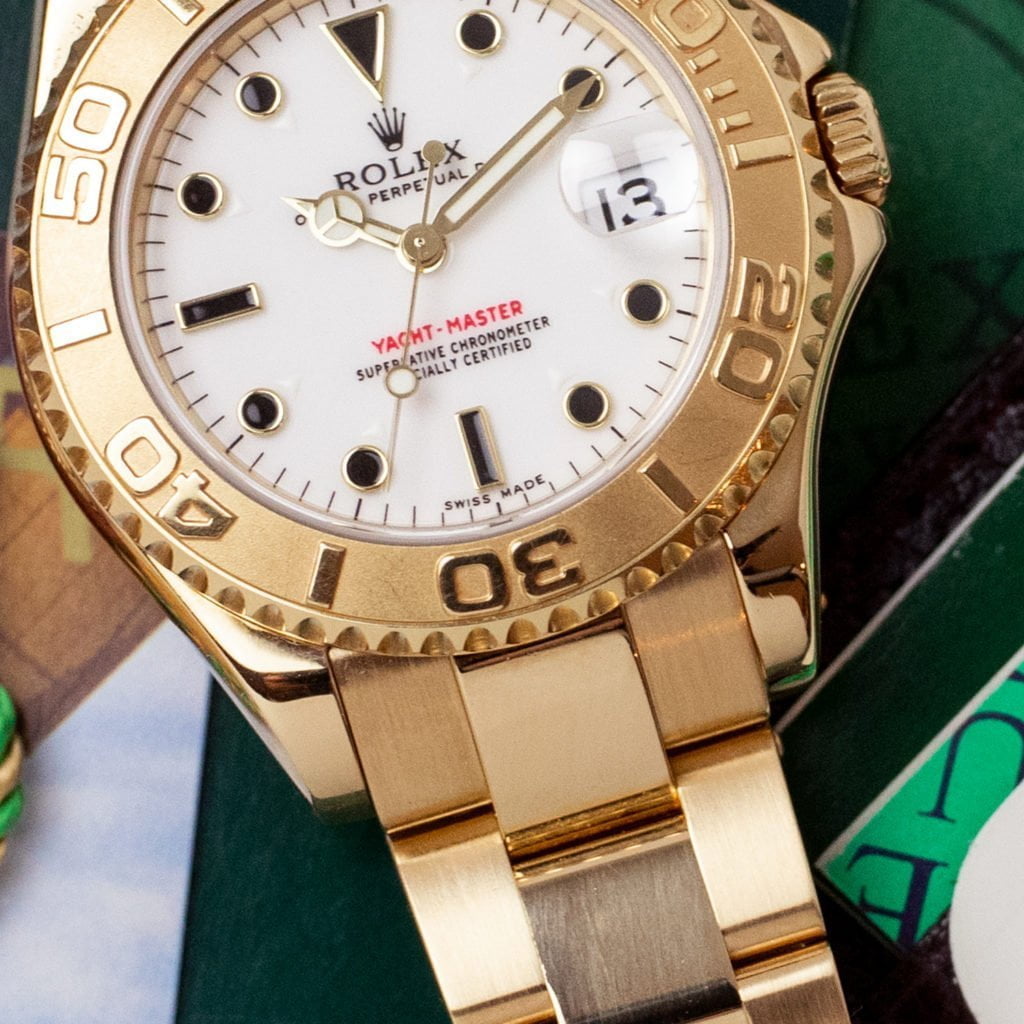 Rolex Yacht-Master 168628
THIS WATCH WITH SERIAL NUMBER P298604 WAS STOLEN FROM OUR SHOP DURING A BREAK-IN ON OCTOBER 22, 2020.FOR A LIST OF ALL THE WATCHES THAT WERE STOLEN, PLEASE CLICK HERE.PLEASE CONTACT US IF YOU COME ACROSS ANY OF THE STOLEN WATCHES. THANK YOU! We love a gold Rolex sports watch as much as the next guy (or girl), but sometimes 40mm is just a tad too much. Cue the mid-size Yacht-Master: a full-gold luxury sports watch that wears like a Datejust!The original 40mm Yacht-Master was introduced in the early 1990s as a nautical watch. It infused the robust and sporty looks of Rolex' classic sports watches with a touch of playfulness and luxury. In 1994, a mid-size version was added to the line-up.This mid-size Yacht-Master from 1996 clocks in at a very wearable 35mm, giving it the looks of a vintage skin diver from the 1960s. The size is perfect for a modestly-sized wrist or for anyone looking for a more classically styled sports watch. This ref. 168628 sports an 18k yellow gold case, engraved 18k yellow gold rotating bezel, and matching 18k yellow gold Oyster bracelet. The watch sports a white dial with funky red 'Yacht-Master' text and 18k yellow-gold hour marker surroundings with black lacquer filling. Unlike other Rolex toolwatches, the luminous compound is applied in the form of small white triangles next to the hour markers.The watch is in great condition, with a sharp case and exceptionally tight bracelet. The watch dates back to 2001 and comes as a full set, with the original inner and outer box, booklets, tags, and papers.
Introduction
Rolex Yacht-MasterRolex seems to have toyed with the idea of a nautical watch in the 1960s. A handful of prototype 'Paul Newman' style Cosmograph dials with printed "Yacht-Master" text have surfaced over the years, but a nautical Rolex chronograph never actually came to fruition.In 1992, Rolex introduced its first dedicated nautical watch under the Yacht-Master name. Unlike preceding sports watches (like the Submariner and Daytona), the Yacht-Master forewent the toolwatch aesthetics. To achieve a sporty luxurious look, the first Yacht-Master (ref. 16628) sported a gold Oyster case, with big markers and hands, more polished surfaces on the case and bracelet, and an engraved solid gold bezel. In 1994, Rolex introduced a midsize and a ladies version. Finally, Rolex added a stainless steel version with solid platinum bezel to the Yacht-Master line-up in 1997.
Specifications
SKU

6062

Bezel material

Boxed

Caliber

Case Dimensions

Case Material

Dial

Glass

Model

Movement

Reference

168628

Year
Shipping
Packages are generally dispatched within 2 days after receipt of payment and are shipped within the Netherlands by Registered Mail through the Dutch carrier PostNL and for other countries by Fedex. Consult us if you prefer another method of shipping. For most destinations tracking is available.