Rolex Datejust 1600/8 'Obsidian'
Sold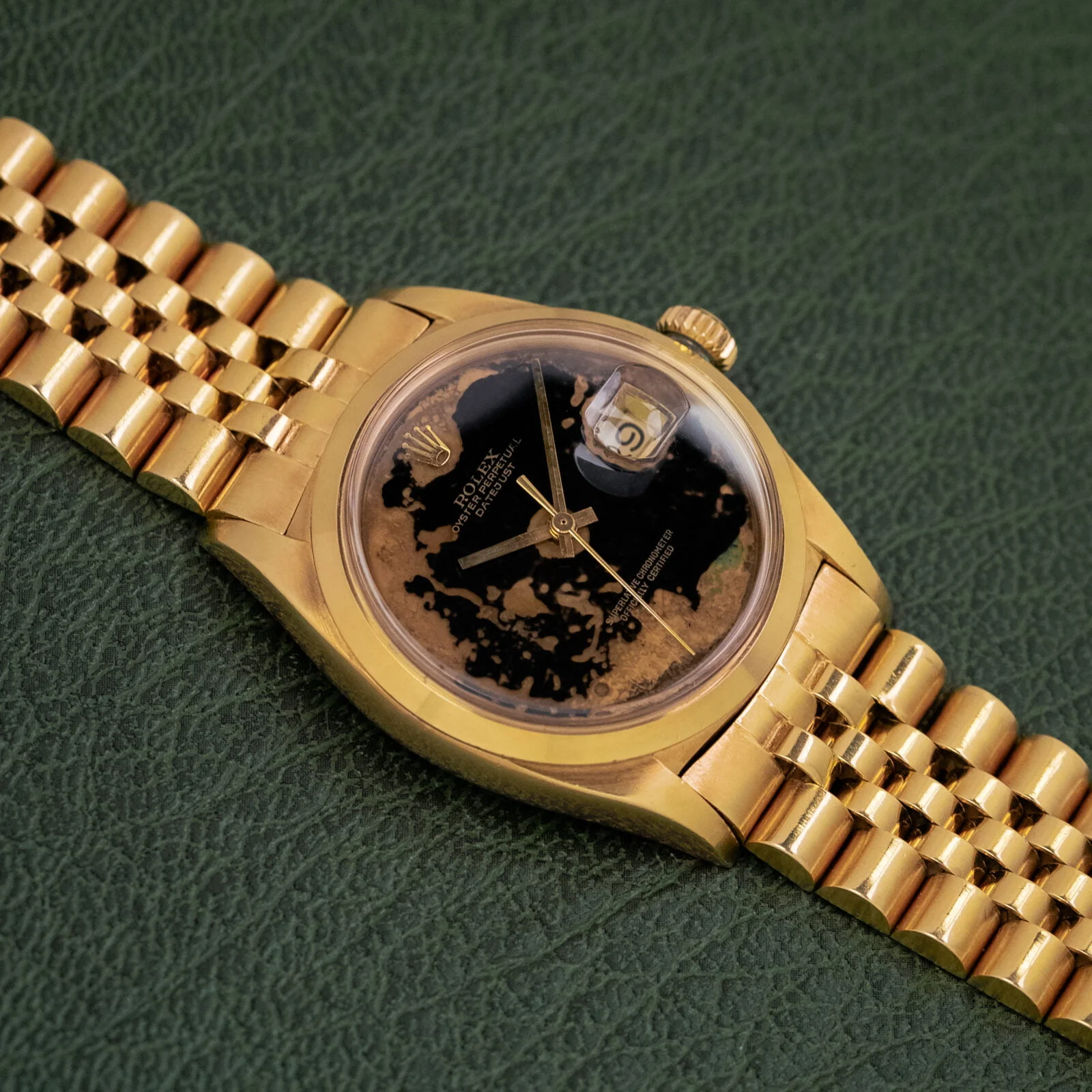 Rolex Datejust 1600/8 'Obsidian'
A watch that is hot like lava!
Or more specifically the dial is smoking. We are happy to present you this extremely rare stone dial, or actually "glass dial". That's right; Obsidian is a naturally occurring volcanic glass, formed when lava -extruded from a volcano- cools rapidly with minimal crystal growth. Since it is glass, some parts are translucent to transparent. The yellowish segments you see is basically just the color of the base dial where the slab of Obsidian is mounted on, giving it real depth to the dial. Furthermore inclusions of magnitite and iron oxide aren't uncommon in this igneous rock type.
Ever since we got our hands on a vintage Rolex dial code chart, we are aware of the existence of obsidian. Sparsely one turned up on auction, sometimes it was "Tiger Iron" instead, but due to the obscurity, mistakes have been made when properly identifying the stone. In the last decade only a handful have been sold in either the Datejust. or Day-Date. Additionally Rolex used Obsidian once or twice in the Cellini ref. 5071.
So there is no doubt this dial is rare, These crafty dials were only available for precious metal models, so it is housed in a 1600/8 which is rare in and of itself due the the smooth bezel. This yellow gold case dates back to 1972 and has a Jubilee bracelet -in matching metal- mounted on it.
A work of art: made by nature, framed by Rolex. If just rare isn't enough...
Specifications
SKU

7372

Reference

1600

Year
Shipping
Packages are generally dispatched within 2 days after receipt of payment and are shipped within the Netherlands by Registered Mail through the Dutch carrier PostNL and for other countries by Fedex. Consult us if you prefer another method of shipping. For most destinations tracking is available.