Rolex GMT-Master 1675/8
Sold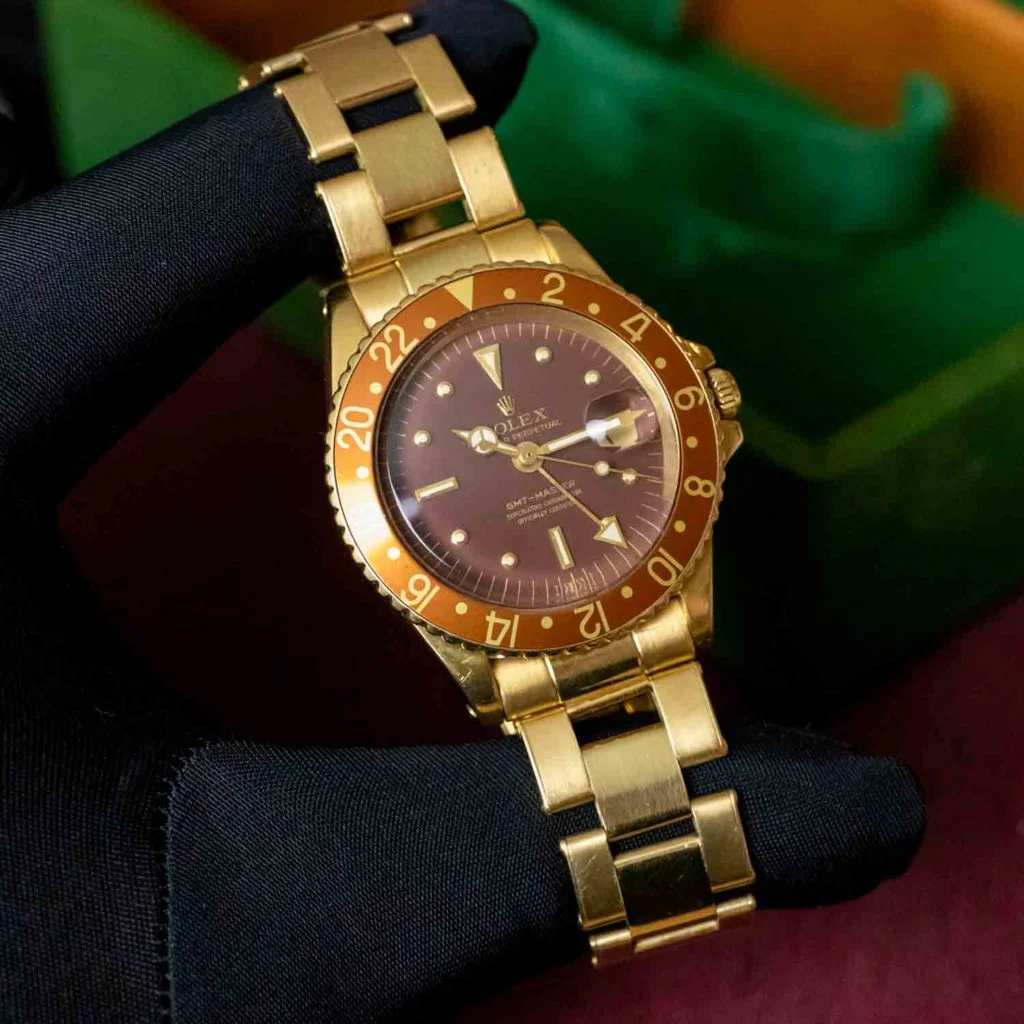 The 1675 was introduced in 1959 as the successor of the 6542. During its production run of roughly twenty years - making it one of the longest produced references in Rolex's history - it came in various executions. One of them being the 1675/8 in which the 8 indicates it was made from gold. This pilot wrist watch was mostly produced in steel and only few were ever executed in 18k yellow gold. 
A distinct and beloved feature of this reference (and the 1680/8 a.k.a. the yellow-gold Submariner Date) is the nipple dial: protruding hour markers made from gold. The 1675/8 came in various configurations. The one we can offer you has a brown bezel and matching brown dial. Mistakenly, people call this a 'Rootbeer' but the 'Rootbeer' has a bicoloured bezel (brown- and cream coloured). The watch has a glossy dial that is in pristine condition and has - eventhough it's not a gilt - a gold printing on it, which looks very cool with the 18k yellow-gold hands, case and bezel. Even more, the watch comes on a very rare riveted Oyster stretch bracelet. The one we have dates back to 1972 and runs on the calibre 1575. This example spend most of his life in the safe of the previous owner, therefore it is in extremely well-kept condition and the watch will come with inner and outer box and all documentation imaginable.
Introduction
Rolex GMT-MasterFasten your seatbelts for the story of the Rolex GMT-Master. Aviation company Pan-Am requested Rolex to create a wristwatch that would display multiple time-zones simultaneously, as their flights got longer; crossing multiple time-zones. Rolex came up with the GMT-Master ('GMT' stands for 'Greenwich Mean Time') in 1954. The watch features a date-function and an extra hour hand (with triangle) that points out the second time zone on the bi-directional turning, 24-hour bezel. Still linked to aviation and although meant for professional use, it enjoys a much wider fan base ever since it first saw light. Over the years it underwent some changes and there are so many wonderful variations of this all-time Rolex classic. Some GMT's are great as a single purchase, others are a wonderful addition to any collection and some of them can be considered as the crowning glory.Reference 1675Introduced in 1959 and with a very long production run of more than 20 years. First, it came with the 'pointed crown guards', which got replaced by regular rounded crown guards in 1964. The dial was adjusted a couple of times and went from glossy and gilt with a chapterring to a matte, radial dial in the end with many variations in between, like the rare 'Exclamation Mark', 'Underline' and 'Double Swiss'. There was a change in the red GMT hand as well as it started with the small GMT-arrow and got replaced by a bigger one. The 1675 was mainly produced in steel, but was also available in 18k yellow gold or a combination of both materials. In the early '70s it became the first professional watch from Rolex with – optional – a factory-fitted jubilee bracelet.
Specifications
SKU

4430

Bezel material

Caliber

Case Dimensions

Case Material

Dial

Documents

Glass

Inlay

Model

Movement

Reference

1675/8

Year
Shipping
Packages are generally dispatched within 2 days after receipt of payment and are shipped within the Netherlands by Registered Mail through the Dutch carrier PostNL and for other countries by Fedex. Consult us if you prefer another method of shipping. For most destinations tracking is available.